Corporate Philosophy


A2 Healthcare Corporation, a professional service provider in the life sciences industry, contributes to the progress of medical and pharmaceutical services, QOL improvement of people through offering professional and high-quality service solutions.
Corporate Vision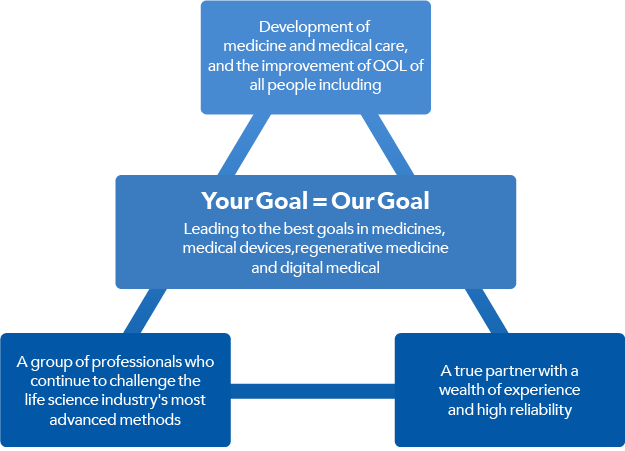 A2 Healthcare, a professional service provider in the life science industry, believe that our constant efforts will contribute to the development of medicine and medical care, and the improvement of QOL of all people including patients and their families, and also will lead to our own growth and happiness.
We are CRO who share purpose with our clients and lead them to the best goals. From the development of medicines, medical devices, regenerative medicine and digital medical to life cycle management, we have a wealth of experience and high reliability to establish a true partner position for our clients.
Human resources are the basis value of our service solutions. We have abundant human resources with diverse specialties in a wide range of disease areas, and by constantly utilizing the most advanced methods in the industry, we will realize the dreams of our clients and the patients and medical professionals.
A2 Values
Speed & Challenge
We challenge with speed and courage.
We rapidly catch changes in the environment and situations, always challenge the most advanced methods in the industry, and aim for the best goal with a sense of speed.
Collaboration
We strive for being a true partner.
We aim for high level achievement as a professional CRO and we work together as a true partner by continuing to pursue collaboration with our clients and project members.
Ownership
We constantly remind ourselves of a sense of ownership.
We maximize our professionalism and pursue creating new value.
Completion
We never give up to carry through our mission.
To achieve our goal without giving up to the end, we pursue actions based on strong conviction.
Compliance
We pursue the good and right quality.
Keeping compliance in mind and also being responsive to regulatory changes, we continue to seek for effective measures to accomplish our goal.